Having said that, there's nothing better than logic you completely control and I have to say that I'm not happy with the overblown directory structures or superfluous codebases or how most CMSs will try to hide what's running in the background, behind the polished UI...
For the above reasons and even more I didn't mention it kinda made sense to me to go ahead and create a new CMS from scratch. Oh, who needs another PHP CMS you say? I'll have to agree with that...
BUT, what if one took principles currently only widely available in JavaScript (Node, jQuery) and implemented them in a PHP codebase to create an easy to use CMS that would satisfy both the novice and the experienced web developer?
After years on the white board I took a leap in the development of this project during July 2011 and was able to produce a first public release by August the same year.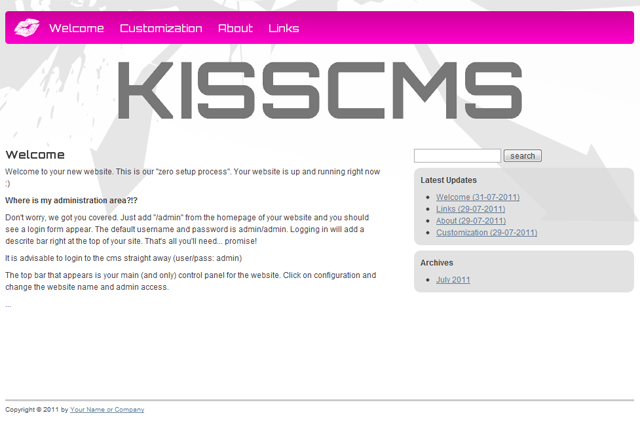 The project has its own web presence at kisscms.com featuring documentation, guides etc. and there is a github repo that holds all the production issues and carries on development.
Released: August 2011
Makis Tracend
Chronic web developer. Recent startup founder.
Makis Tracend ( @tracend ) is the technical lead of San Francisco based K&D Interactive. He is also leading the development at Makesites.org, devoted to producing commercial open source using web technologies.